As organizations work toward a well-managed applications infrastructure, they need to consider the level of expertise their staff brings to specialized areas in respective fields.
Let's face it, IT personnel are in high demand, and sometimes companies don't always have the capital to invest in onboarding dedicated IT staff that possess highly specialized skills.
Managed Service Providers offer businesses the practice of outsourcing business administration and management to a third party. Managed Service Providers can provide all types of services. For this article, we will stay in the realm of Applications Managed Services, specifically Oracle Applications Managed Services.
Over the past decade, we have realized the benefits of cloud technology. Customers can't be held back by aging technology when the speed of innovation continues at an overwhelming pace, security threats continue to burden organizations, and analyzing massive amounts of data are crucial to retaining a competitive edge.
So other than highly skilled expertise, why would an organization bring on an Applications Managed Service Provider?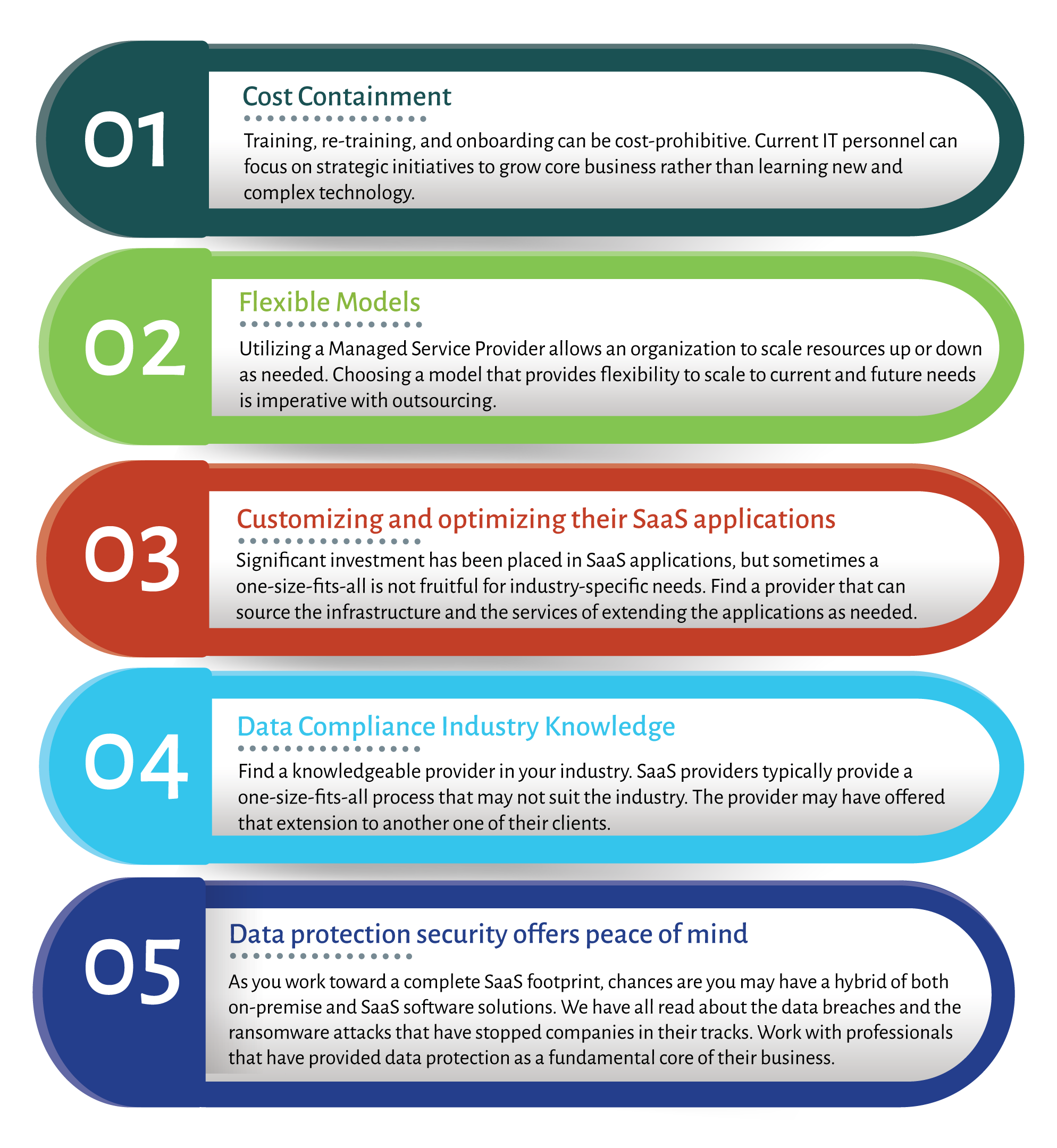 So How Can Infovity Help?
Proactive Incident Management with an Assigned Model
The fundamentals of Infovity Applications Managed Services run on the core ITIL framework, namely:
Incident Management based on Service Level Agreements
Problem Management – Identify Root Cause
Proactive Management – Prevent for recurring and deploy a monitoring solution
The team operates on an SLA-based robust assigned model, where aligned resources work with the customer one on one through to ticket resolution. Infovity offers a Customer Care Portal enabling proactive incident management and providing direct line visibility on the status of issues logged. Tickets may include customizing the application or producing a new report that provides the data the customer is looking to incorporate.
Full Suite Oracle Support
Infovity provides a complete range of support, including Oracle on-premise EBS to the most current Oracle fusion cloud applications. Our cross-practice resources connect to allow accessibility to engage on-demand services from a PaaS, DBA, or experts from each domain (ERP, HCM, SCM, CRM, etc.) to support your business requirements as they evolve. These services allow companies to minimize their operational risk and optimize their project execution time.

Upgrade & Patch Management
Through the cycle of mandatory Oracle cloud updates, Infovity offers a continual structured support model for evolving the client's applications. The patch management cycle includes elective or optional changes to the system that Infovity might identify in liaison with the customer. With optional services such as impact assessment, regression testing, known-error log review, vendor liaison, and deployment of mandatory changes across supported environments, Infovity effectively manages the Oracle release cycle and the underlying Oracle environments.
Application Enhancement
Infovity has built custom application solutions on Oracle technology for hundreds of organizations. Our objective is to develop strategic solutions that maximize your Oracle technology investment and provide functional value to your business. We leverage Oracle's industry-leading toolset for application development, database development, and business intelligence to support any development approach, technology platform, or operating system.
Business Advisory
Sometimes you may just need a little help. Our team of seasoned industry experts can be your key partner in bringing knowledge in areas the business requires. Infovity can work with you to provide the assistance you may need when you require it.
To find out more about Infovity's Applications Managed Services Offerings, don't hesitate to get in touch with us today!