Our Ridiculously Unbeatable Guide: Navigating through OCW'23 from start to finish
Disclaimer: This blog contains our OCW Schedule, sprinkled with some serious humor, golden tips on taking full advantage of your attendee pass, a to-do checklist, and—of course—Infovity's masterful self-promotion.
Let us begin!
Oracle CloudWorld is making a triumphant return this year to the city of Las Vegas.
We get it—you've got more sessions to attend than you have socks, and enough hands-on labs, tutorials, certifications, and theater sessions to fill an overenthusiastic suitcase on a much-needed vacation. But fear not! Infovity's got your back with an all-in-one blog that will become your cloud compass—no more feeling like you're wandering through the digital clouds without a North Star!
Now that you've journeyed this far, you might as well savor the entire read, don't you think? We're only claiming 2 minutes of your time for our 3-point guide— your fast lane to CloudWorld success!
Point #1: The Triple 'S' Strategy: Secure Your Schedule, Stat!
Yes, we're not shy about bolding the title. We want to grab your attention faster than your morning coffee hits your bloodstream.
Let's be real, going to an event without having a schedule handy is like going into an exam without studying. You might as well curl up under the covers and call it a day, right? With Infovity in your corner, you can't fail. Below, you can find the CloudWorld agenda, laid out for all four days of the event. And the best part? We've done the heavy lifting, so all you need to do is a quick tap on those calendar links for each of our sessions, and you're ready to roll! It's a smooth sail from here. Let's move to point #2!
Day 0
Monday, Sept 18th
Day 1
Tuesday, Sept 19th
Day 2
Wednesday, Sept 20th
Day 3
Thursday, Sept 21st
CloudWorld Hub – Show Floor Hours
 
11 am - 7 pm
8 am - 6 pm
8 am - 3 pm

9 am – 1 pm:

Pre-event Training



1 pm – 2 pm:

Lunch



2 pm – 6 pm:

Pre-event Training

8:30 am - 9:15 am:

How Equipment as a Service Meets the Rising Demand [LRN4339], Sponsored Learning Session
Add to calendar



10 am – 11 am:

Keynote Speaker



11:30 am - 11:50 am:

Solar Energy Leader Improves Resilience and Reliability with OIC and Infovity [THR4341], Sponsored Theatre Session
Add to calendar



3 pm - 4:30 pm:

Keynote Speaker



5:30 pm – 7 pm:

Welcome Reception

9 am – 10 am:

Apps Keynote



11 am – 12 pm:

Tech Keynote



2 pm - 3:30 pm:

Database Keynote



9pm - 12am:

The Party

10:15 - 11am:

Unveiling TBN's Media Transformation: Oracle Cloud and the Power of Subscription [LRN4340], Sponsored Learning Session
Add to calender
P.S. Notice how we've managed to slip in some Infovity sessions in there, too? Consider it a crash course in Marketing with a twist of subtlety.
Point #2: Plan in advance
Remember that moment when you didn't pre-book everything, and it ended up in a chaotic mess on arrival? Yeah, we've all been there—classic tale. But guess what? Infovity's got you covered AGAIN. We have curated a pre-event checklist of everything you'll need before you arrive at CloudWorld:
Point #3: Know before you go!
Oracle CloudWorld is like a treasure trove of opportunities – like participating in hands-on lab activities, taking onsite Oracle certification exams, and numerous pre-event training courses. Don't forget to make the most of your passes – network, grow, and soak up knowledge like a sponge during the event. Talk about a feast for the tech-hungry soul!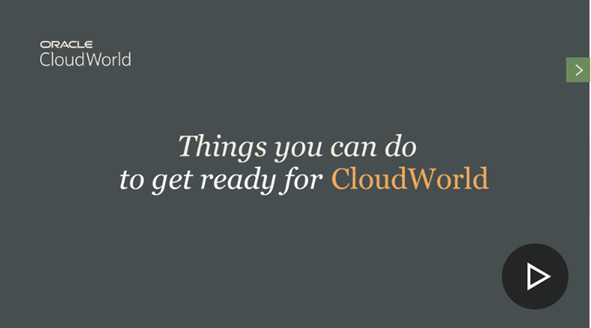 Point #4: Last minute addition to the guide, and more of a reminder: Visit Infovity at Booth #10!
This is something SUPER important that you absolutely cannot miss: Make sure to swing by BOOTH #10 AND CONNECT WITH INFOVITY DURING CLOUDWORLD. Our booth is a hub of engaging learning sessions and interactive whiteboard discussions. Plus, our knowledgeable practice leaders will be on hand to help with your questions or have a nice chat. And a quick disclaimer to assure you there will be no bragging about how awesome, well-rated, and competitively priced Infovity is from our end. Our team is there to educate and help you navigate your digital transformation. No pitches, we guarantee it.
For an in-depth look at our session topics and to get to know our speakers who'll be present, explore all the details right here.
Discover more about Infovity on our Digital Experience Page. Ready to connect? Schedule an appointment, and we'll be in touch with you soon!

So, there you have it—the map to making your CloudWorld 2023 productive, tailored by the maestros at Infovity. Conquer the checklist, master the readiness game, and step into CloudWorld's embrace, like a pro!
Viva Las Vegas!